Archie Bush – Mysteries at the Museum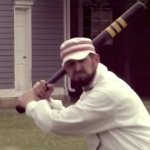 June of last summer, I had the honor and privilege of portraying a minor character in the televised story of the curve ball, which aired on The Travel Channel's Mysteries at the Museum. We were asked by Tracy Martin of Martin's Base Ball Museum to come out and participate in the filming of this segment. What I did not know is that I would be getting more camera time than I had bargained.
In my television debut, I portrayed the great Harvard University striker Archie Bush, who faced the famous first public curve ball pitch from Candy Cummings. Along with a number of other Ohio Village Muffins, I spent the morning and early afternoon creating this segment. All of us can be seen in the clip that talks about Candy Cummings playing for the Stars.
All in all, it was a fun and great experience to see what was filmed and what was created with all that camera time. Now, here is the video — the base ball segment that aired on TV earlier in the month.
Note: This video is in 720p, and depending on the speed of your internet, may take some time to play smooth.