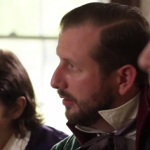 I have been privileged with the opportunity to portray the character of Ezra Griswold, an important pioneer that helped plan and settle the town of Worthington in 1803. Worthington is now considered to be a suburb of Columbus, but is it's own City in own rights.
Ezra Griswold was a good friend with James Kilbourne, the man whom envisioned the settlement of Worthington. Together, with the established Scioto Company, these men created one of my favorite parts of the Columbus area.
I was lucky to be able to attend the private community premiere on this past Wednesday. The episode is one of the best they have done in the series. I suggest that you take a peak at the following extended trailer.
The full episode will premiere on TV tonight at 8pm on WOSU, and will be on rotation thereafter. I hope that they release the full episode online at some point and will share it here if they do.