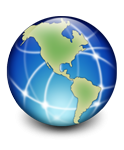 Have you ever wanted a stand alone Pandora or Google Music app for your Mac? Perhaps one for FaceBook or some other web service. As diverse as the Apple App Store has gotten over the years, popular web services like Pandora and Netflix do not have a stand-alone app that you can run outside of Safari. For some of us, that is perfectly fine. For others, having those services running outside of the current Safari (FireFox or Chome included) session is a good thing. Why? Perhaps you are running a dual-screen setup and want Netflix to run on the other screen. Sure, you could just run it in another window or another browser entirely.  But what if we could do that cleaner, neater, and just plain cooler!
In steps the App of the Month: Fluid
Fluid was stumbled upon last year when I wanted someway to run Pandora independently of itself. It became most useful when I uploaded my entire music collection to Google Music as I was using a different Google Account outside of my primary one. It became a staple when I wanted to use Netflix on my TV that normally runs XBMC, and the XMBCFlix plugin stopped working. I also subscribe to NHL GameCenter to watch my beloved Penguins when I can't catch the game on the local channel lineup. Again, Fluid proved it's worth.
Currently, the app run for the fair price of $free, but offers a paid version for $4.99 which is well worth it. With the $4.99 price tag, you get to unlock a small handful of additional feature like separate cookie storage and full screen. Cookies come in to play because Fluid uses the cookies in Safari for the site that you are running, but with the unlocked version, it would get it's own cookie storage for that site. Comes in handy for the Google Music example from above.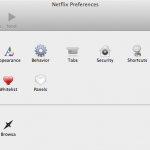 The app does offer may great features out of the box for free. You can add a customized app icon for the site, or use the favico instead. There are some controls for behavior of links, window opacity, and even a whitelist to limit what external sites the app has access to.
Head on over to Fluid's site and give the app a test drive of your own. You may decide, as I did, that it is a required install on any Mac that own.